Math is one of our favorite things to do around here. Well, for my son it is. :) I have never been strong in math but I like learning with him. We were able to review the
TouchMath
curriculum these past few weeks. We opted for the
2nd grade homeschool curriculum
as I thought that would be a good starting point for us.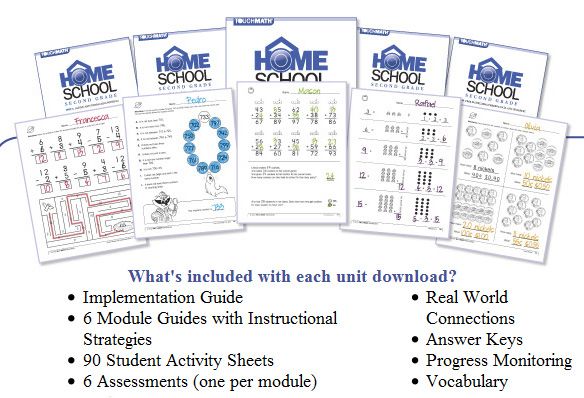 The grades range from Pre-K to 2nd grade. They do also have some upper grade math programs. For our grade it is a downloadable curriculum and is broken down into units. You can choose to buy each unit for $59.95 a piece or you can buy all four units for 2nd grade for $199.95. We also received manipulatives for this review which inlcuded the
flipcards
which are priced at $19 .00 a set, the
second grade CD software
which is priced at $99.00 a set, and the Touch Numerals.
When you use the downloadable units they come packed full of everything you need to go through this program successfully. One thing I enjoyed was the Core Standard tracking sheets you find in each unit section. For those who need to do reporting and combine their portfolios to show the Common Core, this is a true asset!
Each unit is outlined and easy to use. You simply download, print and your ready to go! Touch Math recommends you work on these topics for 4-5 days a week and for two to two and a half times the age of the student. So for us we spent about 12-15 minutes a day working on the concepts.
What we thought and how we used it...
One great thing is this is going over what we are currently working on. It gave me a different way to teach the concept and really seemed to help him grasp the areas he was struggling in. I love the ease of the worksheets, full out lesson plans and instructions and how easy it was for me to know what we were doing. :) We would set our timer for 12 minutes and work on the concept given. My son's favorite part was the touch numerals:
He asked to work with those on a daily basis. I love the bright colors and fun way to bring in the concepts we were learning. We have been working on addition over 10 and it can be complicated for a little one sometimes. It is complicated for Mama at times ;). These touch numerals were a great way to help him get hands on experience with the addition and subtraction we were working on.
He also enjoyed working on the computer with the software that came with the review. It was reiterating the concepts he was learning in a different way. I love having multiple ways to do the same thing. It helps me to know what his learning style is and it helps not get bored with the material. We spent time playing games with the numbers and also going over the flash cards. They can be written on with an erasable marker.

When asked his opinion he states, " I think they are fun, pretty cool and I would recommend it to other homeschoolers,". :) He really enjoyed this review and I enjoyed it as well. Overall this was a hit with our family. We enjoyed the hands on experience and extra ways to introduce a new concept. Be sure to check out more reviews by clicking the Review Crew button!