For this review I received
Math Mammoth
curriculum called the
Light Blue Series for the 2nd grade
. This is a full math program for your second grade student. You can choose to receive it in a download so you can print as you go, a CD or the printed out books. The digital download offers two options: pay $34 for the full set or you can break it down into Set A or Set B for $17.50 a piece. The CD copy runs for $39. If you wish to have the printed books you can purchase them for anywhere from $13.95 - $17.95. This Light Blue Series runs from grades 1-6. There are also other books that run through 12th grade available on the site.
The set I received was the digital download of the series.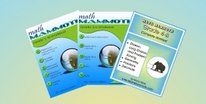 In the set I received two student work texts, an answer key for each of those, tests, cumulative reviews, and an extra worksheet maker. There are four main areas of second grade math: learning the base system to 1000, developing the child's fluency in addition and subtraction of numbers to 100, learning standard units of measure and learning to describe and analyze shapes. Your child will also study time, clocks, money and different types of graphs. This curriculum is mastery oriented instead of a spiral method. This system was created by Maria Miller who was a math teacher and then became a housewife and homeschooler. She has her master's degree in mathematics. She knew the struggles that the homeschool moms around her had teaching math and decided to create a math program to help us all out.
One of the great things I love about this system is it is all planned out for you. You know how I love to have lesson plans ready ;). This provides those. It gives you clear instructions on how to teach the lesson and gives you examples to work with. This helps you to get the lesson across to your child. It makes it easier on Mom or Dad to teach because Maria has done it all for you. Each day's lesson is planned out and tells you what sheets to work with. There are a few manipulatives you will need for this math course but the great thing is they are probably items you already have around your home. For example, a few items include a ruler, an old fashioned alarm clock and some bathroom scales.
The lessons vary in length of time. Some days a lesson may take you one day to grasp it, while others may last 3-5 days. There are tests to review the concepts to make sure your student has grasped them. You can also use the cumulative reviews and the end of the year test. This would be a great thing to add to your portfolio if that is something you must keep.
One thing you do not receive is a teachers manual. That is because the student work-text has everything you need to teach the lesson and for your student to work on the lesson. Some students can work on items by themselves if they are able to read the lessons and directions. This is in simple terms so it shouldn't be hard. You can help you student with the new lesson as much as they need and then they can work on the problems.
This is a very sound mathematics program and I enjoyed working with it. We are planning on continuing to use this for our 2nd grade year. I really like the all in one inclusiveness of the student work-text. I really like that we can print off as much as we need for the week and I can plan our week out simply.
If you are looking for a solid math program then this is definitely worth you time to search out. You can get a download and have immediate access or decide to order the books.
Don't forget to stop by and see what others have to say about this wonderful math curriculum. As for our house, we are going to keep on traveling with the Mammoth ;).