For this review I received
Classical Conversations
book
Prescripts Cursive Letters and Coloring
. Classical Conversations is a movement in the home education field to help students learn the classical way. Their mission is " to know God and to make Him known". They take the classical method of learning and combine that with a biblical worldview. There are groups all over the country that help homeschoolers learn together and in the Classical method.
The Prescripts series is a way that you combine cursive writing with art and history. While many schools are getting rid of the cursive writing, I do think it is important for our children to still learn. Electronics are taking over and texting or email leaves writing a lost art. I want my son to still learn how to write in cursive because there is just something about getting a handwritten letter. ;-)
Classical Conversations came up with this set to help younger children with memory work. Copying down passages is a huge part of the classical method. This series helps younger ones to learn the cursive letter formation while learning their passages as well.
The book we received started teaching the cursive letters. The book, Prescripts Cursive Letters and Coloring, runs for $11.99. It is for children ages 3-7 and helps them start building the cursive letter formation foundation.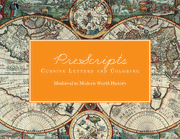 This book contains pages that include finger tracing, letter tracing, coloring and copying. It will help build your child's fine motor skills while learning about history along the way. One page contains the letter for the day and how to write it in cursive. Your child traces the letter with their finger at the top of the page to get the feel of how to create the letter.
Then your child will take their pencil and trace the letter , then write it on their own. There are several spaces for them to continue writing the letter and learning the proper formation. The next page in the book is a historical picture for them to trace, color or draw. The pictures are from medieval and modern world history locations.
Here's a shot of some of the work my son did:
It's amazing how a simple flower to me can become a Super Mario power flower to him ;-). We worked on two pages a day, sometimes more, if he was up for it. I really want him to learn cursive writing so when this book came along I was eager to try it out. We have dabbled in cursive but have not had a formal curriculum for it yet. I noticed on a Kindle App I had that he really enjoyed the cursive flow. Some children learn cursive easier because of the continuous motion it provides. Print has a lot of stop and start motion where cursive is more like a dance. I see that when I see his writing. This is much better than his print. (Of course mommy doesn't have the best handwriting so I can't fault him there ;-))
There are four books in this series and this is the first one. This will help get your child started off in the right direction for cursive handwriting. I do not believe you have to strictly use the classical way to benefit from this book. We are more eclectic here and it worked well for us. I will consider going through this whole series as it teaches from the letters to writing full sentences.
If your child struggles with print or if you are ready to introduce cursive handwriting, this is a great place to start. I enjoyed how easy it was for him to grasp. He enjoyed the shorter lessons. (He's a typical boy and writing is not his favorite). Take a look at the
Prescripts
series from Classical Conversations if you are looking for a beginning cursive curriculum.
Be sure to click the link below if you want to hear about other books in the series!