Are we really less than a month from Easter already? I mean didn't we just have Christmas? We are getting ready for Easter here with our awesome new review product from
Egglo Entertainment
. We recently got the chance to check out a variety of their products, like the
Glow in the Dark Egglo Eggs
and we had a blast!
I love the whole idea behind this Easter egg hunt. The curriculum, story and the eggs teach you that Jesus is the light. It is a unique and fun way to teach children to keep their focus on Christ at Easter. He lights our path and helps us to find the truth in a dark world. Follow the glow!
For this review we received several products from the vendor. This is awesome to use as a church Easter egg hunt program, at home or with friends. Here's what we received:
Glow in the Dark Egglo Eggs
I still love to hunt Easter eggs. I really am a child at heart. We have had a blast in years past spending lots of time hunting eggs and trying to find the neatest way to hide them. These Glow in the Dark Egglo Eggs take Easter egg hunting to a whole new level!
To use these eggs you simply charge them by placing them under a light source for a certain amount of time. For us, we charged them by leaving the box open on the counter, pretty much all day. You don't have to leave them that long but that's where they sat to make sure they were ready.
You can use these as the only eggs you hunt or combine them and hunt with a flashlight, as the curriculum suggests. They glow very brightly and make it easy to find them. You could use them for special eggs at a larger hunt and have them be the "golden" egg for the kids to find. Put prize stickers in them to give them something special at the end.
The glow in the dark eggs come in a package of 12 eggs with four different colors; blue, green, yellow and pink. They also have some that are plain eggs and others have a cross design on them. They are pretty sturdy eggs and connect together easily. These Easter eggs cost $9.99 per box.
The Egg-cellent Easter Adventure Book
The next item we received was the Egg-cellent Easter Adventure Book. This was a story of about a special Easter Egg hunt where three children and their dog, Zeke, learn how they can let God and the Word guide them through life. They go on a variety of adventures and at the end of each adventure, they all learn a valuable lesson that ties into the Bible. Searching for their Easter eggs leads them to how Jesus can help us through any situation.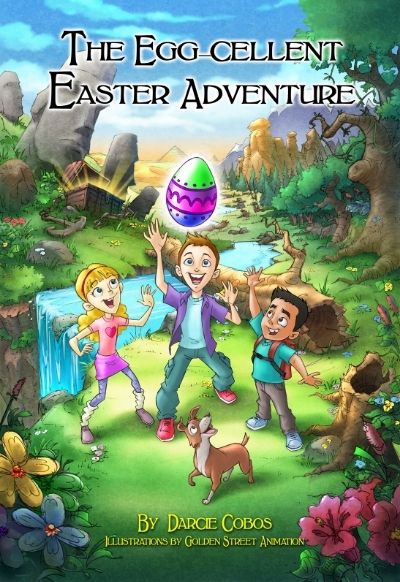 This is a great tool and a fun story to read together and connect how the glow in the dark eggs work with your Easter egg hunt. This book can be purchased on the site for $9.99 and is a perfect addition to your Eggs.
We read the story before the Egg hunt and my son loved it. It is a bright colorful book and the adventures are fun and exciting. As a mom, I love how the children learned to work together and how keeping their focus on Jesus helps them deal with tough situations.
As you read the story the children find the glow in the dark eggs that contain Bible verse scrolls in them. This brings me to another product we received. We also were able to check out the Egglo Scripture Treasure Scrolls and the Egglo Bible Verse Stickers.
These two products come in a package of 12 each and are just like what your children will see in the storybook. It contains scripture verses on the scrolls to help us all keep our focus on the true Light. You can add this to the Easter eggs or just give them out individually.
The Egglo Glow in the Dark Egg Hunt Event Curriculum
The next item we used was the Egglo Glow in the Dark Egg Hunt Event Curriculum. This is a downloadable product that guides you through using the eggs for a church wide Easter egg hunt or just at home.
This is a great addition to the package. It has 60 pages of ideas, activities, crafts and more to help you make the most out of this years Easter Egg hunt. You can use this for a church wide hunt or just for you and your friends at home. Make it a homeschool egg hunt party or just have a fun and exciting hunt for your own family.
The guide offers printable activities for you to include in the hunt. It offers printable poster ideas to announce your egg hunt or you could choose the invitations that are customizable to your particular event.
It offers up snack ideas, both fun and healthy, to help fuel those little hunters for their exciting event. The guide discusses ways to make this work for 10 children or 100. This downloadable resource is $9.99 and is reproducible so you can make it work for your group.
We thoroughly enjoyed this review. The story is amazing. The eggs are "awesome!!", in the words of my son. I love the fact that at each turn it's pointing your child to the true meaning of Easter in a way they can easily understand.
If you're looking for a new way to hunt eggs this year, this is it. They have great ideas on their Pinterest site for fun crafts and ways to use these products. You can also find them on Facebook, Twitter, Instagram and Google +.
Click the banner below to see how other Review Crew members put these in use.