It's that time of the week ;) Our blogging through the alphabet time.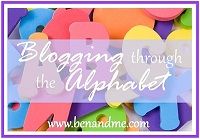 This has really made me think each week . LOL Sometimes these come to me easy and sometimes.. Not so much. I think I need to start carrying around a little notebook with me for blogging ideas that just honestly come out of nowhere. I had one Sunday in church and for the life of me can't remember it now. Oh well... Back to this post ;-)
F is for freedom. Freedom of what? Freedom to homeschool. Freedom to worship. Freedom to do the things we do everyday. I have a cousin right now that is in his first deployment to protect our freedoms. Thank you CUZ for all you do and for your sweet wife who is waiting for you to return.
My main focus for
this
post is freedom in our homeschool. I am so thankful for the freedom in and to homeschool. I used to get really wound up about our lessons. We HAD to finish this amount of work by this date or I was just all out of sorts. But I have since learned that because we homeschool we have freedom in our lessons and how we approach things. Freedom to explore our surroundings and take time to look at the rocks and trees that God created around us