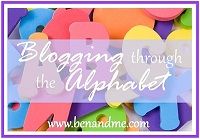 It's that time again!!! Blogging through the alphabet time. Don't forget you can click on the photo above and catch up with others "G" posts for this week.
For me this week it's about being gluten free. I have dealt with diabetes for the past ten years. I also had some other issues going on that I was sure was my meds or just the lack of energy etc. As I read more and more on the effects wheat can have and gluten can have on people, I started connecting the dots a little. No, I have not been officially tested for any sensitivity. Did I have results from my primal/paleo challenge I took? Absolutely I know now that when I eat things that have wheat my tummy is not exactly happy about it ;) . By eliminating grains I felt better than I have in awhile. I was losing inches and pounds that I didn't think I could. Now the scale has not moved quite as much as I would like but my clothes fit different and I can SEE results in my self.
Is my family on board? Ehh.... They are still wanting their bread and some sweet stuff. ;) I have seen positive changes in my son. No longer is it an everyday thing that he asks for fast food. (we all know the draw the golden arches has) No longer is he requesting crazy junk filled snacks. Yes he is a kid. He still eats candy from time to time. More often than not he is asking for meat for his snacks ;) That I can handle.
Going gluten free/wheat free/grain free, whichever you want to call it, is a definite life change. It is not a fad diet that you go on. It is, for some, a way of necessity due to intolerance's or allergies. It changes lives just like it did mine. I hope to continue on this low carb/gluten free journey. I do know that my cooking has changed and I need to learn how to make things that my family will eat and enjoy without all the sugar and "regular" carby feel ;) LOL That has been a journey in itself. If you are considering the gluten free/grain free lifestyle there are some great places I'll recommend. Check out these links below and learn about how you can live this way in a carby filled/wheat crazy world :
Paleo Parents
The Paleo Mama
Paleo On A Budget
These are a few of my favorites. Have you gone grain free? Was it for necessity or just personal choice? What results have you seen?
Don't forget to check out the other "G" posts this week!!