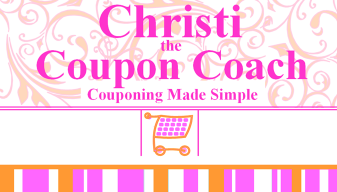 For this review I received
Christi The Coupon Coach
's book,
Couponing Made Simple
. Couponing has changed dramatically from the days of our mother's and grandmothers. Gone are the days of just simply using a coupon on your favorite item. There is a system that you can put into place and help save your family 50% or more on your groceries. How? By putting Christi's approach and tips in place. You can easily save your family money and be saving up for that big purchase, putting it back in savings or getting ready to send your children off to college. Whatever the reason you need to save, Christi can show you how.
You can purchase her paperback book for $18 or you can get a Kindle edition as well.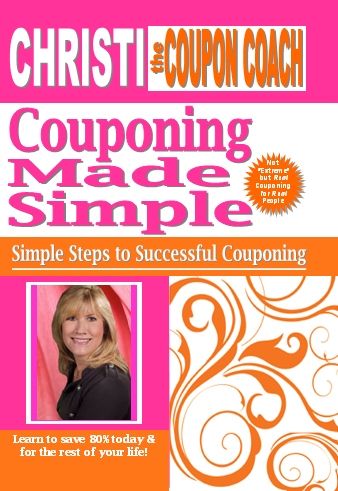 Christi's book is called Couponing Made Simple. It is just that. She teaches you the methods to put in place to help save your family money and eat well. We have all seen the crazy show, Extreme Couponing. While it can be fun to watch, it's not realistic. Most of us don't live in the areas that triple and double coupons. If you pay close attention, they will also tell you they don't do this often and it's their biggest trip. Christi's approach is for REAL life and REAL people. These are realistic savings you see in your book. One of her success stories shows a 92% savings! Wow! I am striving for that savings for my family.
This book is a great beginners guide to couponing. It takes you step by step on how to get started, what you need, how to organize your coupons and so much more. Christi will walk with you on each step of the system and help you set up a system that works for you. Not all coupon systems are a one size fits all. What works for one person doesn't work for another when it comes to organizing your coupons. Christi gives you several ideas for organizing your coupons in a way that makes it easy to find.
She also takes the time to go through the steps of what you need to do to be successful couponing. You will learn how to match sales and coupons together to get the most out of your shopping trip. It's confession time. I used to be a couponer. Like a die-hard couponer with a binder and everything. But just like many others, I got overwhelmed and bogged down in trying to do it all. That is where Christi comes in. She gives you simple to follow steps and procedures to help you coupon successfully without getting overwhelmed and stopping.
Here are a few things you will find in her book:
- Coupon terminology - what do all those abbreviations mean?
- Organization ideas - how do I keep all these coupons in an orderly fashion?
- Success stories - see how she makes it work and what successes others have had in couponing
- Tips and Tools - make your trip more efficient with these tips and tools
- Ethics - some people are cut throat couponers. Learn the ethics of couponing
If you are interested in getting into this huge coupon opportunity where you could save your family 80% off your groceries and other items, this is a great place to start! Christi's book is easy to understand, read and know how to go about your first coupon trip. Get excited as you read her tips and tricks of the trade and see your first successful coupon trip.
I would recommend this book to anyone who is wanting to learn the ins and outs of REAL coupon possibilities. I have put her methods into play myself and am already seeing the savings!
Check out the other reviews of Christi's book by clicking the link below!