We love animals here in our house. Birds, ocean life, land life, you name it. My kiddo loves it. We recently got to combine our love of animals with a great product from Homeschool Legacy called Birds of a Feather for a TOS review.
Homeschool Legacy offers a variety of once a week unit studies with a variety of topics ranging in history and science. These unit studies provide a great way to study a specific topic of interest to your child while you're having fun doing it.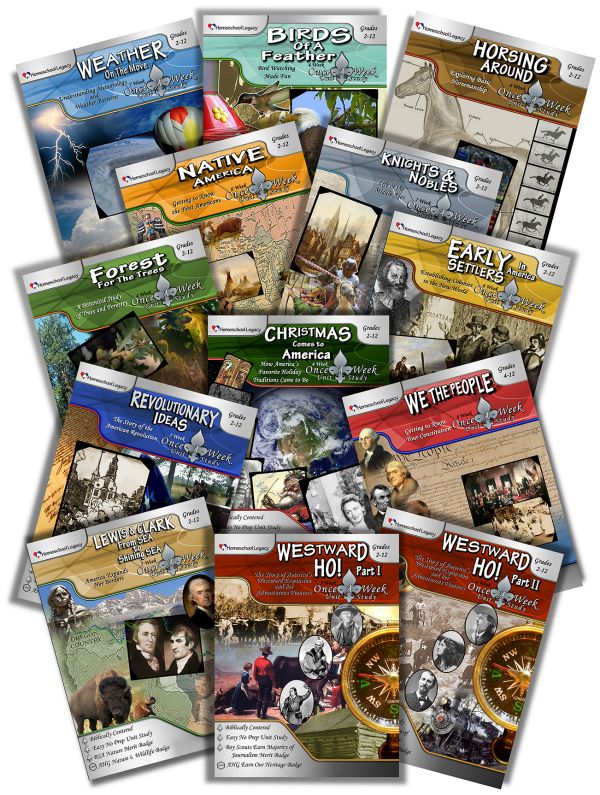 These unit studies offer a variety of learning activities for you to utilize and learn about your specific subject of interest. They also give you guidelines on how you can earn your American Heritage Girls Badge or your Boy Scout badge.
Our book was called Birds of a Feather. We received the physical copy but some of them are available in a digital download copy only.
What the book entails...
Our book had a schedule for using the study once a week combined with daily family read alouds. Each week you can pick one (or as many as you can read) read alouds to do with the family. Your child can read them or you can use it in your reading time. Each week's topic focuses on a different area of birding. We started with our backyard habitat, took a look at identifying different birds, ornithology and finally, our favorite, birds of prey.
Each week of your study covers a variety of topics and activities including:
Family Read Aloud
Independent Reading
Family Devotional
Language/History
Science
Field Trip Options
Family Movie Night
For example, some of the activities in our first week were to set up our outside bird area. While we already have an area set up, it gives you a variety of activities to build a birdbath, bird feeder and a bird house. It also gave us a suggestion of a movie for family movie night this first week.
How we used it...
This unit study could not have come at the more perfect time. We had a lot of extracurricular things that came up having to do with birds and it fit right in with our study.
For us, we would listen to the read alouds throughout the week instead of all on one day. Spreading it out is how Homeschool Legacy suggests you do it. Since Boo Bear loves audio books, that's the route we chose.
Each week we listened to our story for the week. On Wednesday of each week we would do Unit Study day. This is when we would work on our projects for the week's lessons. We did the devotional reading, worked on our feeder and other projects.
Our home came with an already built birdhouse and bird bath. We added a feeder last year and have really enjoyed watching the birds out the window. One awesome thing is there's a little blue bird family that has taken up residence in the house. The previous owner said that blue bird always comes to this house to lay her eggs. Guess what? It's baby time at our house!!
Mama has been doing an awesome job taking care of them. You can barely see their tiny little heads poking out.
It's so awesome to watch and have this going on with our unit study.
We also got a chance to see a falconer at the library. He brought in his Australian Eagle Owl when we were getting ready to do the Birds of Prey week. It was an amazing and informative class and we learned a lot. My son decided he wanted to be a falconer when he grew up.
We were also able to hold a feather or two and see the difference in the hawk and other feathers. It's amazing how the feathers are designed on the owls and other birds of prey to not make a sound.
The feathers are very different.
We were very lucky to have all this extra added on with our unit study. It just makes it all come to life even more.
I personally enjoy doing unit studies. It gives us a break each week from the everyday lessons. While those are important, I highly believe it's important to follow your child's interest to keep them active and engaged in what they are learning.
I would highly recommend checking out these once a week unit studies to add some extra fun to your weekly schedule. It's really easy to prepare for the lessons as everything is all together in one place. You have your supply lists, ideas and suggestions on how to run each weeks lesson. It's also up to you how much or how little you do from each week.
Be sure to click the banner below and check out the other studies that the crew were able to review!