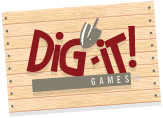 Let's face it... Video games make learning so much more fun! At least in our house it does. We recently received the chance to review the Dig-It! Games online video game called Mayan Mysteries.
Dig-It! Games provides a variety of online and iOS apps that you can download for educational games and fun for the entire family. Students can hone in their skills such as critical thinking, problem solving, and of course, fun!
Our game, Mayan Mysteries, provides a look at the Maya civilization as you try to figure out who has been digging up the precious artifacts. The secret looter Ladrone is causing a mess and your team has to help stop him.

This online game provides nine hours of play time for most children or adults who decide to check it out. Since it is a lot of information to remember and discover, we have taken it a little slower. You start out with a series of puzzles and tips that Professor Alex Quinn and his team share with you so you can go on an adventure to protect the relics of the past. You learn a variety of skills along the way such as map skills, memory skills, and history about this amazing culture.

How we used this... I would set Boo Bear up with the computer for some game time after our regular lessons. He would play for 15-20 minutes at a time as he pursued Ladrone and learned about the culture. I also sat down with the game myself and played along. Some of the questions were challenging to me and I have to say, I missed some to begin with. The great thing was we could go back and redo sections so that we better understood what we missed. It will definitely make you think and keep you on your toes.
This game is designed for a middle school child, grades five through nine. My son would need some assistance throughout with the reading as the game is based a lot on reading passages. It uses comic sketches, videos, and other interactive methods to help your child get through the game. This game is all played online and you can visit seven different Maya sites while you're trying to protect the artifacts from Ladrone...

Your child can improve their independent learning with this game that offers:
Over 200 Mayan topics verified by historians
25 Challenging puzzles to solve
The famous Mayan Calendar
Mayan Pyramids
And a whole lot more to explore!
When I asked Boo Bear what he thought of the game, he gave it two big thumbs up! He really enjoyed it and asked to play it instead of me having to tell him to do it. The Mayan Mysteries game is a great way to reinforce your study of the culture itself or to just add an element of fun to sometimes boring history studies. This works great for those who are independent learners or if you want to work together with your younger child.This program also lines up with National Standards for a variety of subjects, if you need to keep that in mind.