Ok so before we go any farther, grab some tissues. I mean it. Really! We recently received the new movie called Do You Believe? from the awesome FishFlix.com collection. I have to say I'm so thankful for this company.
With the movies that come out today, you can never be sure what you're getting. But! When you get a movie from FishFlix.com you know it's family friendly and appropriate for your home. It's usually inspiring and may even challenge you in your own faith. That's exactly what this movie does.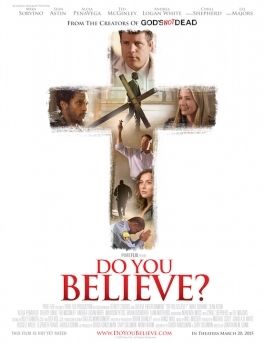 To say this movie came at just the right time is an understatement. I honestly have had this movie for a few weeks now but every time I went to watch it, something got in the way. Not today. I have been struggling in my own life due to a change in jobs that I never expected. It's one of those lessons where you know God's got this but you're having a hard time convincing your flesh of that. Enter in this fabulous film.
Who's FishFlix?
FishFlix is an online store where you'll find the latest and best Christian Movies available on DVD. If there's a new release, or a faith based film you're looking for, you'll probably find it here. They have a wide range of movies such as Do You Believe, Little Boy, and Faith of Our Fathers. If you'll recall, I reviewed another of their selections a few months ago and you can find out more about that one by clicking here.
What is Do You Believe?
This is a new film that was released in March of 2015 from the creators of God's Not Dead. In this movie you'll find stars such as Lee Majors, Cybill Shepherd, Sean Astin, and Mira Sorvino. The movie is about 12 different people who's lives are on very different paths. Each has a story of their own and as you follow them, you start to see them intertwine and all connect.
Have you ever thought about the question... Do you believe? I'm sure you believe but how about do you believe in the cross of Christ? Do you believe in the power it brings and the sacrifice that was made there? When that question is posed to a Pastor, it rocks him to the very center of his being as it may you. In the movie you'll hear a very powerful sermon that the Pastor shares and see how it can have ripple effects all around the church.
As stories start to connect, there's a huge event that seemingly brings all the different lives to one place at one time. (I won't give it away because you've got to watch the movie). As this event unfolds lives are changed and people make choices either to believe or not.
When I say grab the tissues, I mean it. Grab your box of tissues. I was literally crying off and on throughout the entire movie. This really came at the right time in my life to encourage me and to challenge me. Do I Believe? Do I believe that the power of the cross can do for me what it has done for others? Do I believe that no matter what's in my way, that Christ can get me through it?
I'll ask you this question...
I give this movie two enthusiastic thumbs way way up. It has such a powerful message relating to the cross and the power that is truly behind that cross. I could watch it over and over honestly.
I believe that God sends things to you through movies, people you talk to, Bible studies to truly speak to you where you are. I totally feel that way about this film. It honestly came to me when I am struggling and made me remember the power that Christ has. It also reminded me how amazing He is and how He still does miracles today!
I highly recommend you checking out FishFlix.com for amazing Christian movies to entertain the whole family. You won't regret it! There's a variety of selections for the entire family to get into. These movies are ones you do not have to worry about the message they are sending your children. Check them out for yourself!
Be sure to click the link below to hear about other selections that were reviewed. Also check out FishFlix on social media:
Facebook
Twitter
Pinterest
Google +
YouTube