Recently we had the opportunity to combine Boo Bear's love of LEGO's with the Bible. How awesome is that??? We received the
Zonderkidz
children's
Faith Builders Bible
for review.
This was a review we were both super excited about. I love any way I can share the scriptures with him in a way he can understand and relate to. He loves to build projects with LEGO's, so this was a perfect fit.
Zondervan has a huge selection of children's and adults products to help you dig deep into the word. This one is an amazing find for my son. He loves all things building and the illustrations in this bible are amazing! We have had other Zondervan bibles in the home and this was another great addition!
What it is:
The Faith Builders Bible is an amazing NIrV translation that has a hard durable cover. NIrV is the NIV translation of the bible, but it is geared towards younger readers. It stands for the New International Readers Version. Basically, it just makes the bible easier to understand for our budding readers.
This bible offers the scriptures to your child but it includes 24 full color pages that give them LEGO building projects to work on. The projects are all based on a story in the Bible making it easy for your child to get hands-on in the Word. The very beginning of the Bible has a unique way of assisting your children in learning the books of the Bible. It gives you an example of putting the bible book names on blocks and building them in order. It helps your children learn which books are law, history, major and minor prophets, the gospels and more!
It also offers ideas of items they can build to begin with before you even start reading.
Each illustration teaches one of the pivotal stories of the bible in a way your child can easily understand. You can use this to teach the story, build the lesson so they can visually see it, and then learn a Building Block Verse to reinforce the lesson.
This is the entire bible in the NIrV and you have over 20 lessons to work on. Your children can even take their own stories as they are reading and build from them. My son wanted to build a church after we were reading and this is what he came up with.
Not only can they get in the word, the building illustration pages can inspire them to build creations on their own that the read about in the bible.
What we thought:
Of course, we loved it! Boo Bear loves that he can open up the Bible and get inspired to build a creation on one of the brightly colored pages. I love that he's getting into the word more and more each day.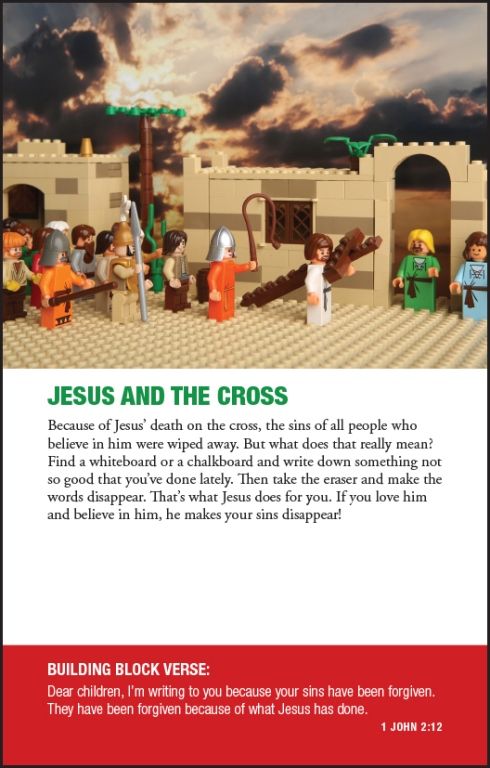 Not only do they get involved in reading the word on their own, they also can start memorizing the word with the amazing verses listed with each project. They are learning more about their faith in a way that makes it easy for them to understand.
I would recommend this bible for any of the young readers and LEGO lovers in your home. We are really enjoying our Bible study each day with this new addition to our home. If you have a kiddo who loves to build, is learning to read and needs a bible to start off with, I highly recommend this one!
Check out what other projects you can do and what other Crew Members thought by clicking the banner below. You can also check out Zonderkidz on social media with the links below.
Facebook
Twitter