Recently we were able to review a new art curriculum from
ArtAchieve
. We reviewed the
Entire Level II
program and were really enjoying this one. It has been quite fun and very interesting to work with. This program is designed for a variety of ages and skill levels. It is a fun online curriculum with your very own art instructor in your home. There are many lessons to choose from and we worked with the Level II program during our review period.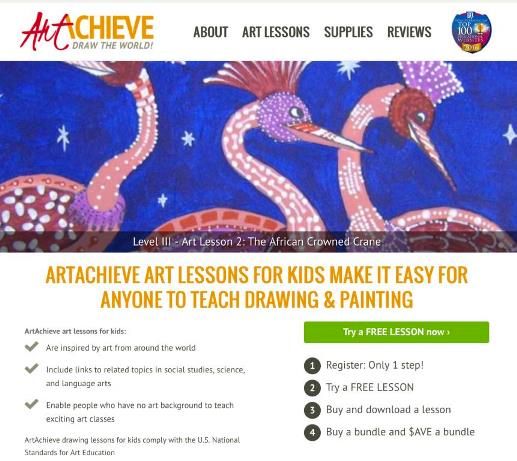 What we received:
We received access to the entire Level II program of art classes. There are 15 different art lessons in this level and they vary on the lessons and the particular skills that are used. I allowed Boo Bear to pick out his favorite ones to work with first. Of course he picked the animals, not hard to believe there. (he's a total animal lover).
How it works:
One day a week we would work on a lesson from the site. He signed into the ArtAchieve website and picked out a lesson to work on. The lessons give you lists of items you need to gather before working on the project. Typically there were two sheets to print out for him to do practice with during the first part of the lesson before doing the actual drawing of the particular item he chose.
(overlook the messy bed hair and mess around him. He has to have his transformers hang during school)
We worked on a several of the projects including the Japanese Goldfish and the Elephant from Ghana. Here's his Elephant he drew through the program.
This program offers more than just the instruction in art. There are also links included to help you learn more about the art project you're working on. It helps to incorporate social studies, language arts, and even science throughout your art experiences. It is great that it allows you to explore more than just how to draw a certain way or with a specific technique.
There are two ways you can do the program. One is to go through it with PowerPoint slides or you can choose the method we chose, which is to watch the tutorial videos with the instructor.
What we thought:
Boo Bear seemed to really enjoy working with the art curriculum on his own. He'd set up his computer for a lesson and would go through it fairly easily without any extra help. I enjoyed the fact that he could learn not only the techniques for the art itself, but also a little bit of history about the culture from where this idea came from.
This is a great program to do with one or more students and even you might want to get in on the fun. There's also a way to post your student's work and create their own gallery on the site. You can take a look at others works as well which can always be inspiring.
My kiddo definitely got his talent from his daddy and Mama doesn't have any drawing talent. I am glad to work with programs such as this one that allows him to work with his talent he has and push it to the next level.
Another great aspect of the lessons is that you can purchase them individually or you can save and purchase access to all the lessons for one year. There are also easy to find lists of supplies for each level and you'll find three different levels to choose from.
I think you should definitely check out the program for the art lovers in your family or just those who want to add art to their homeschool. Click the social media links below to find out more about the program and the banner below to see the other levels the Crew worked on!
Facebook
Twitter
Pinterest
Google +
Instagram