One of the areas I've always wanted to add but struggled to get into our day is art. While we all love it, it's one of those that fall by the wayside. In steps the recent review we received, ARTistic Pursuits.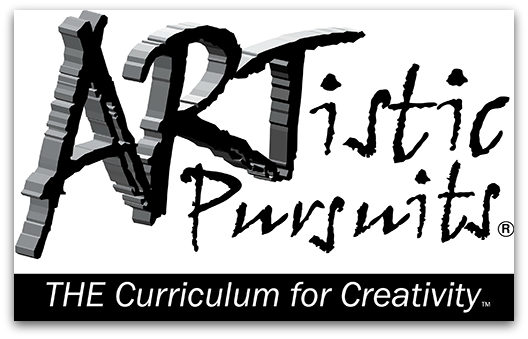 For this review we received the Early Elementary K-3 Book 3 physical book. This curriculum combines a variety of skills including art appreciation, critical thinking and art history.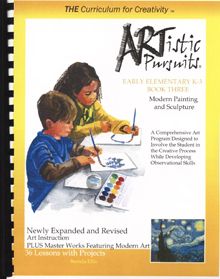 This book is the 3rd in a series and it is recommended for ages 5 and up. Each book dives into art history and helps your child understand all types of art using different mediums, strokes and inspirations. The book we worked on focused on the changes that Modern art brought to the world and why they look different from pieces from earlier times.
We started the book learning about a variety of painting techniques. He started by painting a real life image. He learned about the Impressionist and the changes this time period brought.
We would start each lesson by reading about the artist and learning about the techniques they would use. I found it interesting myself to learn about the different changes and the history behind how these pieces came out.
For this first assignment we worked with Gouache watercolors which was a first for us. They are really neat and are similar to chalk to begin with. You add a little water to them and then you're off!
Boo Bear drew his person and then used round brushes and flat brushes to paint it. The book discusses how to use these brushes and how to get the proper technique down for your paintings.
Boo Bear has started wanting to sculpt lately so we were both excited to see a lesson on sculpting. We talked about different sculptures and went over the artist Edgar Degas. After discussing his sculpture and this art form, Boo Bear was off sculpting his assignment.
Now, we were supposed to add items to the sculpture of a person. He did the steps of sculpting the person but his person came out a little different. We had... a Ninja. (homeschooling with boys right there). That's one great thing about this curriculum. While you're learning the lesson there's room for your own creative touches.
What we think...
I for one love this art curriculum. I enjoy learning the art history behind the different types of art itself and that he is learning this along the way. I also enjoy hearing, "Mom can we do art first please?". He has been super excited that it involves all sorts of styles including the oil pastels.
I also like that while he's learning the history, he's getting to try out a whole new world of art supplies. There are 36 lessons with projects in the book so you can stretch this out to be a years worth of art. If you're like us, it won't last you quite the year because once or twice a week is not enough for Boo Bear.
You do have to purchase an art kit to go along with this curriculum. You can order it online at ARTistic Pursuits when you get the curriculum. I found a lot of the things I needed in our store in town. There are a lot of the things you may have around your house as well.
If you're looking for a way to insure you're getting art in everyday, this is it. I love how easy it is to sit down and do the lessons and that the projects are quite fun. I enjoyed doing them along with him and learning myself.
There are a lot of awesome ideas from this company and curriculum options to choose from. Click on the link below to see what other Schoolhouse Crew members received and what they thought.