Math is a subject that can be taught in a variety of ways. Unfortunately, since there are so many different ways to teach it, gaps can happen. In steps the opportunity to review the A+ Interactive Math Tutorsoft program, Adaptive Placement Test and Individualized Lesson Plan. I received a three month subscription to work with for this review.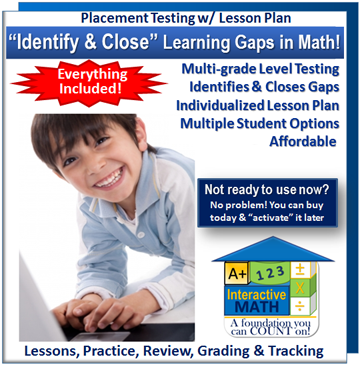 This multisensory program offers a way to pinpoint the gaps your child may have in their grade level math program and fill those gaps in. This program works great for homeschool students, private school or those who need a little help in filling in those learning gaps.
How the program works...
When you begin the program you'll set your child up with the grade they are in or that you would like to locate the learning gaps. I chose third grade as this is the grade we are currently working on. I probably could have chosen 2nd grade to verify those but for the review, we worked with 3rd grade.
Once I set up Boo Bear's account, he signed in with his own login and went to work.
This is the screen once you login that your child will see.
Your child can choose to take their placement test, view reports or view and work on their lesson plans.
First thing your child needs to do is to take an adaptive placement test. This will test them in a variety of areas in the grade level they are in. For example, topics may include addition, subtraction, time and money. Here's what the assessment page will look like. This is after Boo Bear took some of the exams.
You can see on this page it will list the concepts that they should know for their grade. Your child can take the test and it will show how many times they have attempted it and if they passed at grade level. Since we were reviewing this I chose a variety of topics to see where he was at. We worked on Time, Money, Addition, and number sense. The Geometry we are still working on.
Once he completed a test if he was not at grade level, the program sets up lesson plans on the topics he was struggling with. This allows him to only work on topics that he missed and he doesn't have to complete the whole entire lesson.
Once the lesson plans are complete there are also worksheets to help your student learn the topics and get more practice. Your child then goes and takes the test again to see how they are doing.
In most cases for Boo Bear, once he would do the lessons he would pass the test the next time.
What I like about it...
I love being able to pinpoint the gaps we have missed. We have used similar curriculums but have still used different ones over the past years. It helps to learn those gaps and see where we need more work. Since we have not completed third grade yet, we have some more work to do. It will be nice to see what he has done when the lessons for our curriculum are over.
Another benefit I love is it is automatically graded. It records the grade and I can review what he missed on the test. It allows me to go through each test question and see what he answered and where he went wrong with it.
I enjoy being able to see the reports as well. Reports like this one show you where they are at and what the goal for their grade is. It's a help for them to see how much farther they need to go to have this topic covered.
This program works well with any grade is very affordable to add to your homeschool math curriculum. If your kids like working online you want to consider this as well. My son said it was really "cool".
I would recommend this program to any homeschool families that are needing to close learning gaps or just want to make sure your child is on grade level for their math programs. I think this would be a great end of the year review program to have on record or just to go along throughout the year to see what areas your child needs to work on.
Be sure to check out the other reviews and programs offered by clicking the link below.