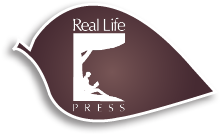 Alright homeschool Mama's, this is for you. I recently received the awesome chance to review the Real Life Press book, The Busy Homeschool Mom's Guide to... Romance. So listen up girls. This is a book you need to get. Not just because I liked it but because you need to hear what it says.
Heidi St. John is the author and she has been married to her hubby Jay since 1989. They have homeschooled all of their children through high school. And guess what? She gets it. Really she does.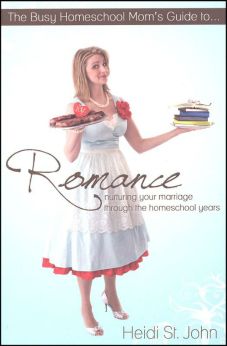 When you homeschool you get the amazing opportunity to nurture your children and that relationship. You get to help them grow and learn in an environment that is built just for them. While all this is going on, there's one relationship that can take a hit if you're not careful. That's where Heidi's book comes in.
Learning to nurture your marriage and keep it strong is critical to surviving this homeschooling journey you're on. This amazing book helps you find ways to do that.
What's this all about?
Heidi goes in depth on how to nurture your relationship with your husband while you're homeschooling, caring for the home, cooking, cleaning... And anything else that might come up. She discusses topics such as:
Social media and how it changes relationships
Finding "That Girl" again ( you know.. the one your hubby married?)
Dealing with outside commitments
Strengthening communication
Hope for those dealing with a broken heart
And so much more!
This book breaks it down and makes it easy to understand. It gives you Biblical advice on making sure your relationship with the one God gave you stays sound and strong.
My thoughts...
Honestly? I loved this book. I felt like I was reading about myself and it was great to know there's someone out there who gets it. Of course I know that a lot of us may be in this situation but for someone else to put it in words that they understand the struggle.
My husband and I have an amazing relationship. I'm very grateful for the spouse God gave me. There are times that it feels like we are roommates though, just like Heidi mentions. When you're homeschooling, working, being a part of the church ministries, keeping up the house, visiting friends... It can seem like you're just two people living together instead of the one flesh that God made you to be.
I really enjoyed reading how to find "That Girl" I was when my husband chose me to marry. Heidi gives tips on communicating and making sure you are a three cord strand and not running "parallel lives".
To me the marriage is a very critical part of raising your children. Showing them what a loving, strong marriage is will leave them a legacy. It helps them to see what marriage truly is. Communicating with each other. Loving on each other. Taking care of each other when times are tough. Leaning on each other. I had a great model myself as my parents have been married going on 38 years next year.
In my opinion we all face struggles with family. It's part of raising a family. There are different struggles homeschool families face. It can be difficult to find that alone time with your spouse. It's also important that you make time.
Here's just a sample of what stuck out to me...
Making Your Bedroom a Retreat...
What does your bedroom look like? Heidi asks this question and I honestly didn't like my answer. I want it to be our retreat from the world outside of us. I want it to be a place of romance and comfort. A place we feel like we can relax and be refreshed. So I am making it a goal of mine to turn our space into that. I want to add decorations, candles and get rid of the clutter of the world outside. I never really thought much about it until I read her questions.
If you're struggling like so many of us do, this is a great book to get to encourage you and let you know you're not alone. I received the physical copy but you can also grab it in a digital copy as well.
I highly recommend this for you to grab up and put on your reading list. It will speak to your heart. It will encourage you. It will uplift you and it will get you thinking on your marriage.
What do you do to nurture your marriage through homeschooling?
Check out the link below to see more awesome reviews and products from Real Life Press.
You can also follow Heidi and Real Life Press on Facebook, Twitter and Pinterest.