Bonjour! Learning a new language is fun and exciting! We recently received the Middlebury Interactive Languages course Elementary French 1, for 3rd-5th graders.

Middlebury offers digital classes where your student can be immersed in the language they choose. We chose French as our language for this review product as we both wanted to try something new. We received, for this review, the six month access subscription to the French 1 lessons. Some of the other languages you'll find available include Spanish and German. The courses go all the way up to high school level and can easily be fit into your current homeschool curriculum.
What we used: We worked with the French program a few times a week. I printed out the vocabulary for the week's lessons before we got started. Boo Bear would spend around 15 minutes or so on a lesson or go longer if he was into the current unit. When you sign into the program you'll find a calendar with each of the lessons planned out for you. As you finish a lesson completely, you'll see a check mark on the day's assignments. This allows you to see how far your child has progressed through the program at a glance.
Boo Bear would sign in each time and work on that current day's assignments. There are several videos per day and each are just a few minutes long. The program provides a story-line throughout the lesson so that each day your child is building on what they learned the day before. The story continues throughout the semester, each time adding in more of the French and less English.
We started out learning the greetings in French. We listened to the story of Red Riding Hood while learning how to say hello, goodbye, see you soon, etc.
The pages offer interactive lessons where your child will select the right French word for the English translation and vice versa. You'll find that the basics of the lesson are about the vocabulary words in French but there are also grammar lessons and cultural teachings in them as well.
What we thought: This program is very nicely structured and it makes it easy to learn the new language. I was learning right along with him. I love the fact that I could go in ahead of time and print out the vocabulary words for that lesson. This helped him to study them and see them on a daily basis,whether we did the computer program or not that day. We could take these with us anywhere we wanted so he could go over them and keep them on-hand.
We enjoyed working with this online language learning program and I'd recommend it if you're looking for a program for your home. It makes it easy to add in an online language course for your current homeschool program you already have in place. A few minutes a day and you will love hearing a new language around the house.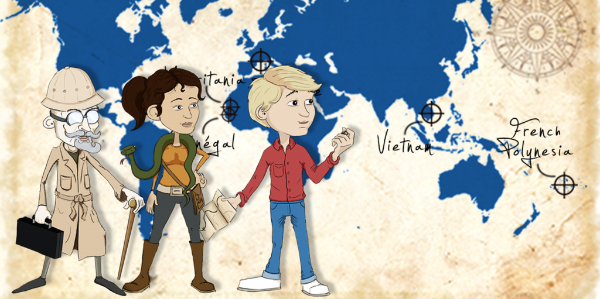 You can find Middlebury on the following social media pages:
Twitter
Instagram
Facebook
Pinterest
Google +.
Click the banner below to see how other crew members used this program and what languages they learned!