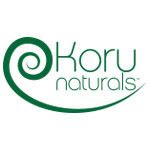 Several months ago I shared with you about a line of natural products called Koru Naturals. I'm here again to share with you about this amazing line and the review products I received. This time I received the Skin Clear Cream, Manuka Honey Propolis Soap, and the Argan Oil and Sandlewood Hair Tonic.
Whenever you're in the market for natural products for the whole family, Koru Naturals has got you covered. There's a variety of products available including lip balm, lotions, soaps, and even shampoos. Take a look at the three products I tried to see just how awesome this company really is!
Argan Oil and Sandlewood Hair Tonic
I received the 4 oz. bottle of the Argan Oil and Sandlewood Hair Tonic with this review. This product is to help reduce the frizziness and help to add some shine to your hair. My hair is quite long and living in the south, frizz is something I deal with on a daily basis. My hair is also sometimes dry as we have some harsh water and weather combined. So I'm always looking for something to help me tame the frizz and add some "pretty" back to it.
This does just that! After I washed my hair, I placed about two pumps of the product in my hand and rubbed it through my hair. It has a very nice smell to it as it is also considered an aromatherapy product. You get two in one! The Australian Sandlewood provides a kind of earthy tone to it. It's a very nice scent and leaves your hair feeling soft and looking great. Some products leave your hair feeling kind of greasy but this one didn't do that. It was a nice addition to my daily routine.
Manuka Honey Propolis Soap
The next product was the Manuka Honey Propolis Soap. This was amazing!! I mean really! The soap combines the natural moisturizing properties of honey and propolis to make you feel amazing after your shower, washing your hands, whatever you want to use it for. I really enjoyed this and I'm still using it. It's a huge bar and lasts for quite sometime, unlike the traditional soap you buy in the store.
The bar itself is an unique honeycomb shape and is honestly cute, to me anyway. It has a little bee on top, as you can see in the picture above, and one side is a creamy look while the other is more translucent. I used this for every shower I took in the past several weeks and it is still going strong. It doesn't seem to have shrunk much at all. My skin feels amazing after my shower and the scent is very pleasant and mild. You can use it with your entire family and it also has some protective and antibacterial properties as well.
Skin Clear Cream
Ok, I love the other two products but this one, has to be my favorite. Oh my! The Skin Clear Cream is amazing!!! I received the 4 oz. container of this cream and there's so much of it! Really! 4 oz. may seem like a small number but this goes a long way. First, if you're pregnant or under the age of 12, it's not recommended you use this product.
As you can see, there's a lot of the cream in this container! It really is a little goes a long way with this. First, the smell. It's so light and wonderful. The cream combines Manuka oil, honey, Thyme, and a few other natural ingredients to help your skin feel fresh, smooth, and clear.
While I have been blessed with good skin, I still do have occasional breakouts. I've also had quite sensitive skin since I was little. I tried this cream out and instantly fell in love. There's a little scoop on top of the lid to help you get the product out of the jar without contaminating it with your fingers. You apply the cream twice a day after you have washed your face.
The cream is designed to help your face feel moisturized, to help with acne breakouts, and to help with elasticity. The cream is just simply wonderful! After applying, my face felt so soft, fresh, and just wonderful. I love the way it feels very light when you apply it and not heavy like other creams can make you feel. It's very easy to add to your daily regimen and it's definitely a must try if you have acne problems or just want to use natural moisturizing products.
I really enjoyed all three of these products and I'm continually using them today. You can check out the other Koru Products I've tried by clicking here. Be sure to check them out on social media below and click the banner to see what other amazing products the TOS Crew received!!
Facebook
Pinterest