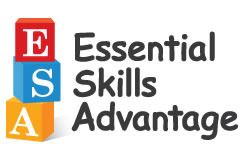 Even though people hear "homeschool" and think that we school at home, all the time, that's not the case. We are on the road a lot with different appointments, field trips, errands and classes outside of the home. Having a program that we can take with us on the go is great as we have days that we need to work on school and skills, but maybe do them differently than normal bookwork. That's where this awesome new program comes in!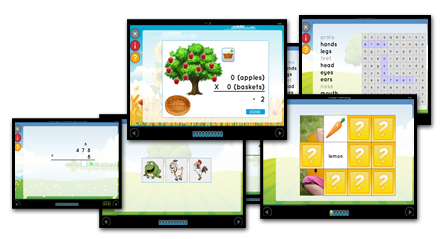 What we received:
We received access for a yearly online subscription to their Complete Home Learning Suite. That means it includes subjects such as Geography, Math, Science, English and so much more! Essential Skills Advantage, or ESA for short, is an online curriculum program that is geared towards grades K-6th. We are on the cusp of going into 5th grade so this was a good fit for us. Boo Bear liked being able to choose a variety of programs to work on and I liked that it goes with us.
We took this with us to the allergy doctor, on trips to the store, etc. and worked on it at home. We used several of the different programs throughout the review period so we could get a good feel for what they offer.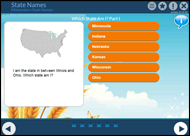 We worked through some of the Earth Science, math concepts, geography and creative writing. Boo Bear worked on areas of math that he is having a more difficult time in and that we are currently working on. He did them in both grades 5 and in grades 4 so he was super excited that he was able to work on 5th grade math already!
How we used it:
As I mentioned above we took this on the road with us for most cases. We did do some of the work at home on the computer, but for the most part it was on a cellphone or tablet. I love that we can sign in from anywhere and he can work on skills while we're on the go.
The program offers easy access for Mom or Dad to check out the progress of your child. You can get reports such as the one below showing how far they have progressed and what skills they've been working on. You can also go in farther and see how they did on each unit, how many times they tried to work on it, the amount of time spent and when their last try at the information was.
The curriculum itself is self-paced so your child can move as fast or as slow as they need to go. There are a variety of concepts offered and the subjects vary in grade range. For example, the Earth Science we worked on only went up to 3rd grade so it was a good review for Boo Bear to work on. We worked on some of the Geography where it reviewed the capitals of the states. We learned those a year or so ago so it's always good to go back and review. I honestly can't remember them all myself so it works for me too!
You can have one, two or as many as you need students under your one class. You sign in under your account and can add your students to have each one working on different areas. You can print out report cards for your children to keep as a record for yourself, make certificates of completion for them to enjoy or just keep everything online for your at-a-glance needs.
What we thought:
For me, I enjoyed having everything easily accessible for when I needed it. I printed out certificates and report cards just for my records to go along with his records for this year. Boo Bear enjoyed the different varieties of activities available. His favorites were probably the science as he's a huge science buff.
I liked that fact, also, that it goes with us wherever we are. As long as we have access to the Internet, we can work on items that he needs to work on. I could also have him working on skills our regular math curriculum has him doing as well. This was a great way for us to supplement that curriculum and to keep moving forward with our tasks even when we were not at home.
Essential Skills Advantage is a great online curriculum to help supplement what your students are learning, to help them move at their own pace, and to help them succeed in skills that maybe they are struggling with. We really enjoyed this online curriculum option and are going to continue using it throughout the rest of the school year.
You can check out what other Crew members thought by clicking the banner below. You can also check out ESA online with their social media links:
Facebook
Twitter
Pinterest
Google +
Linked In
Blog for ESA